If you're bustier and looking for an easy, but firm way to get your bra to stay in place without sacrificing comfort, consider Boob Tape Roll. Read this article to learn how it's made and whether or not it'll work well for you.
What are boob tape rolls?
Boob tape rolls are made of tape specially designed to adhere to skin and fabric. This makes it the perfect solution for covering nipples and creating a smooth, seamless look under clothing. The tape is also hypoallergenic and latex-free, so it's safe to use on sensitive skin.
While most tape rolls are designed for general use, boob tape rolls are specifically made for taping down the breasts. This type of tape is usually made from a stronger material that can provide more support than regular tape, making it ideal for use in situations where you need your breasts to stay in place. Boob tape rolls typically come in two widths (1 inch and 2 inches), so you can choose the size that best fits your needs.
How do you use boob tape rolls?
If you're looking for a way to keep your breasts in place without resorting to a tight bra, a roll of boob tape might be the answer. This type of tape is specifically designed to adhere to skin and clothing, providing support and lift without sacrificing comfort. Plus, it's easy to use and can be removed when you're ready. Here's everything you need to know about using boob tape rolls.
To use a boob tape roll, start by measuring the amount of tape you'll need. Cut a strip that's long enough to go around your torso, making sure there's enough overlap in the front and back. Once you have your strip of tape, remove the backing and apply it to your skin, starting at the bottom of your breast and working your way up. Be sure to smooth out any wrinkles or bubbles as you go.
Next, position your breasts how you want them before gently pressing the tape into place. Once the entire strip is applied, use your fingers to press down on any edges that are not sticking. You may also want to wear a tank top or camisole over the tape for extra support.
To remove the tape, simply peel it off slowly from one end until it's completely gone. You can then wash your skin with warm water and soap if desired.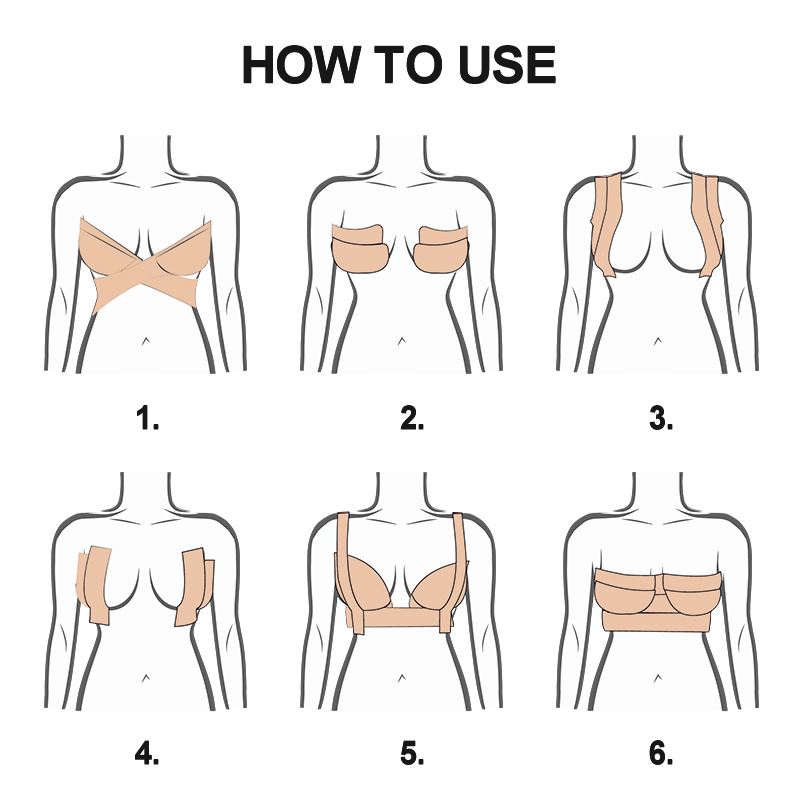 What are the benefits of boob tapes?
If you're considering using boob tape, you might be wondering what the benefits are. Here are some of the main benefits of using boob tape:
It can help to create a more flattering silhouette.
If you're wearing a dress or top that is fitted around the chest area, using boob tape can help to create a smoother and more flattering silhouette. This is because it can help to hold your breasts in place, preventing them from sagging or looking droopy.
It can provide support.
If you have larger breasts, you may find that they start to sag over time due to the weight of them. This can be especially noticeable when you wear items of clothing that don't offer much support, such as strapless dresses or tops. Boob tape can help to lift and support your breasts, making them look perkier and preventing any discomfort caused by sagging breasts.
It can be used as a temporary fix for wardrobe malfunctions.
Have you ever had a strap come loose or your bra start to show when you're out in public? If so, then you know how embarrassing and inconvenient it can be! Luckily, duct tape can be a quick, easy way to provide temporary relief from embarrassing situations like this until you can get home and change into more appropriate clothing.
Types of boob tape rolls
There are several different types of boob tape rolls that you can choose from, depending on your needs.
Standard Boob Tape Rolls: These are the most common type of boob tape rolls and are typically made from Material:95% Cotton+5%Spandex. They're designed to be used with a variety of different fabrics and can be easily removed without damaging the material.
Low-Profile Boob Tape Rolls: These boob tape rolls are thinner and less noticeable than standard rolls, making them ideal for use with lighter-weight fabrics. They're also perfect for people who don't want their breasts to look overly taped-up.
Nipple Covers: These boob tape rolls come with built-in nipple covers, which provide additional support and coverage. They're perfect for use with sheer or tight-fitting clothing, as well as swimwear.
Waterproof Boob Tape Rolls: As the name implies, these boob tape rolls are waterproof and can be used in the shower or pool without worry. They're ideal for athletes or anyone who wants to keep their breasts supported while swimming.
Conclusion
You don't have to be a fashion expert to know that the right boob tape roll can make all the difference in your outfit. Whether you're looking for a low-maintenance solution for a night out or you need something that will last all day, a boob tape roll is an essential item for any fashionista's wardrobe. With so many different styles and colors available, there's sure to be a boob tape roll that's perfect for any occasion. So what are you waiting for? Get shopping!
FAQ
Can you lift breasts with tape?
For Low-Cut Tops. For plunging necklines or silhouettes with a wide opening down the sternum, boob tape can be used to create a lifted breast shape without visible bra lines.