Surging orders, disruptions in the supply chain, changes in customer behavior, store closures, and more: the coronavirus (COVID-19) pandemic has undoubtedly affected all of our businesses. Although as a society, we have not yet completely out of the predicament, AUPCON has worked hard to find solutions and shifted our business online during COVID-19.
While the cross-border trade is facing difficulties, the customers of AUPCON have also been impacted. As a wholesale and retail collection company of kinesiology tape, sports tape, boob tape, wedding dresses, and pet articles, we faced various problems during the pandemic. We are facing challenges, solutions, and opportunities at the same time. Our company has taken various measures to better respond to and cooperate with the sales team's needs for remote work, especially to shift the product export business online. If you want to know more, please continue to browse and see what work AUPCON has done to solve the problem during this period.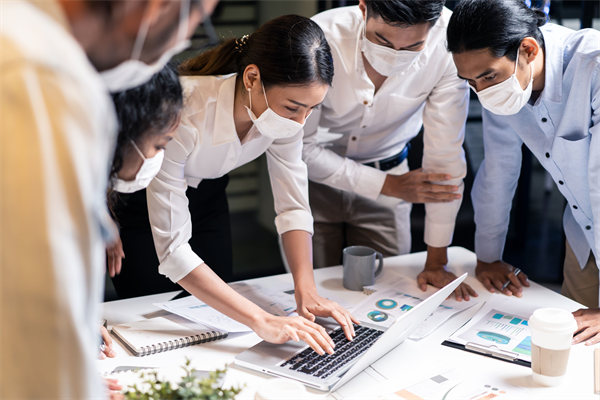 Meet Our Customers Online
AUPCON deeply understands that during a pandemic, it is important to re-evaluate physical distances as much as possible while ensuring business continuity. So we're encouraging our clients to trade online. While some of our customers are already very skilled at communicating processes and order details with us on the web, others may need help.
First, we reminded our customers that even when offline activities, such as trade shows, Canton fairs, and visits to physical factories, are closed, our online trade process is still running. By moving our customers online, we allow sales representatives who can no longer do typical traditional work to communicate to our customers and allow them to establish business contacts with AUPCON online.
During this time, AUPCON helps our customers browse products, place orders online, and even have a live-streaming to show of our factory. Even if we cannot communicate up close with each other, our customers can see everything exactly the same as the physical product and AUPCON can also assist with ordering, tracking orders, etc.
Look After Our Existing Clients
During the COVID-19 pandemic, AUPCON found ways to take care of their customers by providing additional services. As a wholesale and retail collection company of kinesiology tape, sports tape, boob tape, wedding dresses, and pet articles company, we can take steps to support our customers and be a partner they can rely on during these difficult times.
We offer additional discounts or offers to our customers in the most affected areas or subregions. We prioritize the inventory of existing clients over new visitors looking for a single product to purchase. For those customers who are facing financial difficulties, we support them by offering additional return options or extended invoice payment dates. Keep them up to date with all order information and any offers to help them manage their finances more easily.
Streamline Our Process
During the COVID-19 pandemic, some of our clients are likely to experience shifts and fluctuations in demand for certain products. We also find that those clients who are suffering financially look for ways to make back some of their spending. The uncertainty under pandemic is likely to result in a rise in risk.
Therefore, AUPCON do our best to simplify our process to reduce the uncertainty in the transaction process. For example, AUPCON have increased online product display and factory display, and simplified the ordering process, return process, and increased payment channels. While improving efficiency, reduce customer worries.
Deal With Urgent Demand And Supply Chain Disruptions
The COVID-19 pandemic has led to spikes in demand for certain products, while also disrupting supply chains with transportation restrictions and establishment closures. A poll by the Institute of Supply Chain Management found that nearly 75% of companies have already reported supply chain disruptions. Here are some things AUPCON put in place to deal with such disruptions, in both the short and long term.
To deal with disruption in the supply chain and ensure minimal impact on our clients, we make sure our online business enables you to do the following:
Update stock levels and pricing timely
Let clients track their deliveries
Ensure out-of-stock items are updated, and let customers know when to expect them back in stock
Ensure Our Online Platform Meets The Needs Of B2B Customers
As more customers turn to e-trade due to the coronavirus pandemic, it's not enough just to have a location on the web. We also need to ensure our e-trade site meets the needs of B2B customers. This means a convenient, reliable, and complete online process.
Based on our B2B buying process experience: How to Meet Buyers' Demand for (Better) B2B E-Trade, we broke it down into the following main categories:
Displays relevant information: Our e-trade platform should provide accurate, complete, and real-time information, from product and parts to inventory levels and delivery tracking.
Offers optimized functionalities: Make sure your customers can quickly and easily pay and check out.
Fast response: Product information, pricing and inventory levels are timely responded.